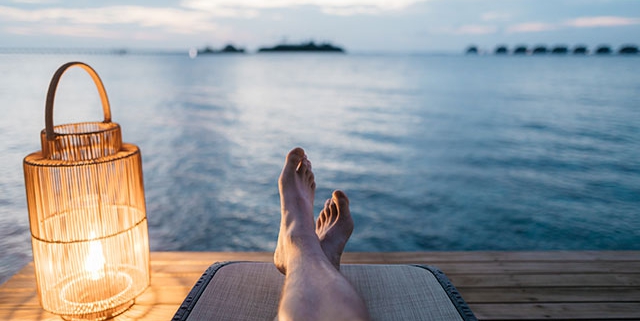 5 Things That Make Vacation Homes More Elegant and Sophisticated
These little details will help you create your own slice of heaven, just in time for the holidays.
Work and social engagements may be invigorating, but sometimes, you just find yourself longing to escape from the city for the beach and simply be. A vacation home is built for that purpose, since you don't have to make major adjustments to your routine as you take a break. But what makes a coastal vacation home, exactly? Below, interior design tips to get you started on your beachfront living.
1. Consider the location.
Living by the beach can elicit calm and a sense of peace, and both areintegral to a private space where you'll be retreating and recharging many times a year. The right location also contributes to the design of your vacation home, since it provides the inspiration for how your interiors will look like. For a beachfront property, modern coastal design works best: think distressed wood, earthy and nautical elements, and relaxing open spaces.
2. Choose a muted color palette.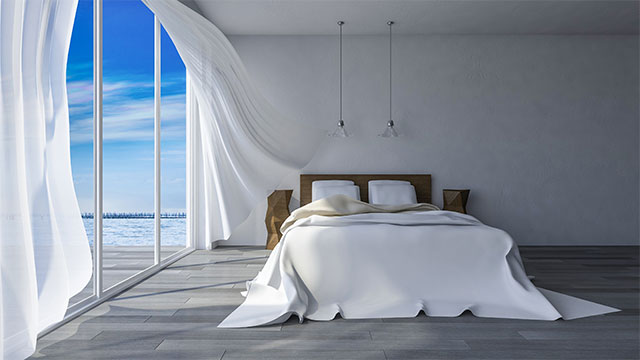 One of the simplest ways to feel like you're on vacation as soon as you setfoot into your beach home is by designing your interiors with soft, muted tones. A sandy tan or a soft gray is easy on the eyes and can make you feel relaxed as soon as you see it. For accents, veer away from bold pops of color as this can jolt you right out of your calm state—keep to the muted colors with pastel hues like aquamarine or coral.
3. Create wide and relaxing spaces.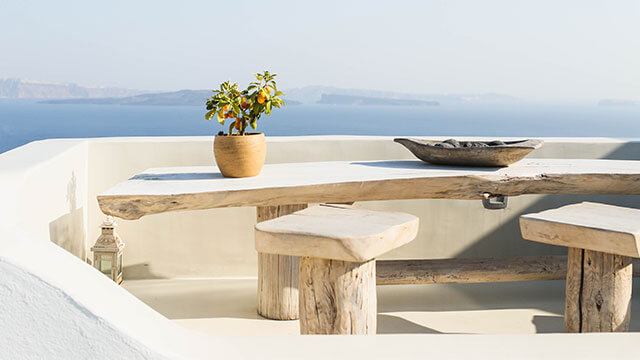 Design your personal space with your overall comfort and well-being in mind. Instead of filling up a room with furniture and decor, allow negative space to thrive in it. Since you'll be following a less-is-more approach, choose only the right furniture that fits the all-around aesthetic of your vacation home. For example, a sturdy rope or rattan hammock by the balcony or a reading nook by the bayside window are some coastal-themed details that help calm the mind but still offer opportunities for stimulation and creativity.
4. Layer pieces with different textures.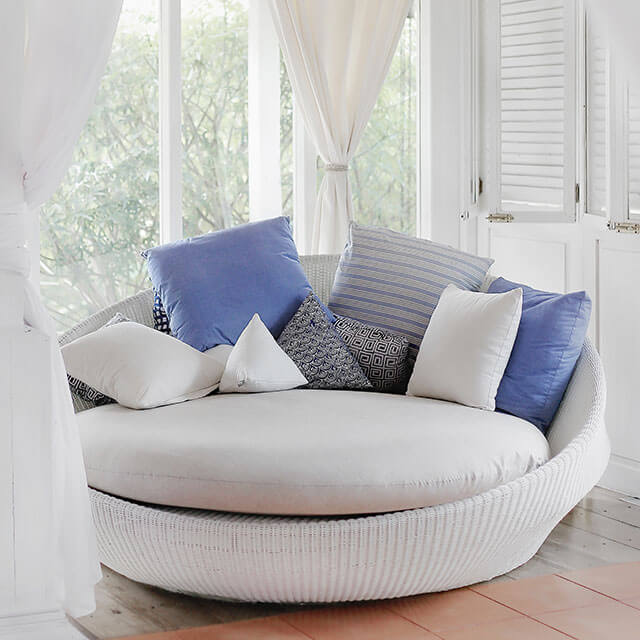 Play with textures that remind you of being at the beach. Imagine sinking your toes into the sand, tracing water-carved rocks, or feeling the waves crash at your feet—try to recreate these tactile experiences with the kind of furniture or decor you use, or at least choose pieces where the texture is visually obvious: woven fabrics, planks of wood, and even potted plants. Lastly, as a vacation home is designed for maximum comfort, add plush cushions, pillows, and throws to your sofa for a cozier, lived-in feel.
5. Add a touch of grandeur.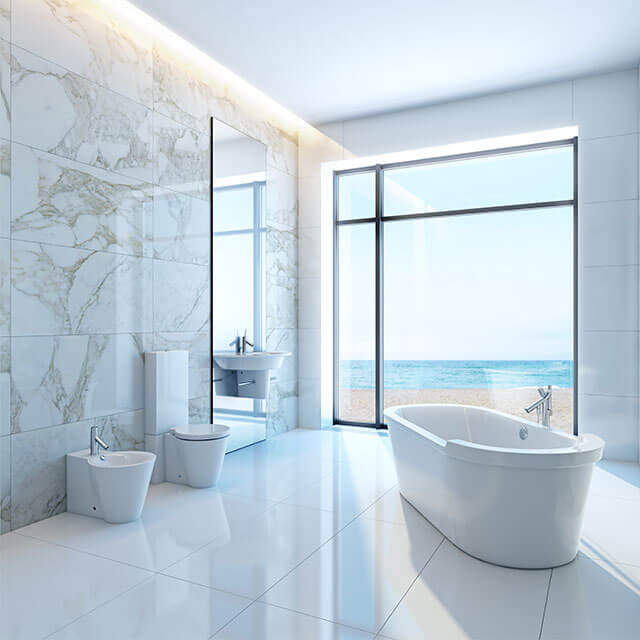 What's a vacation home without feeling the least bit glamorous during your stay? Make your beachfront home feel like a grand escape by going for marble or granite countertops, real wood accents on the ceiling or sofa, and metal finishes on decor and lighting. For your bedroom, choose plush sheets and beddings with an impressive thread count; for your bathroom, opt for a free-standing bathtub that's overlooking the ocean for ultimate relaxation.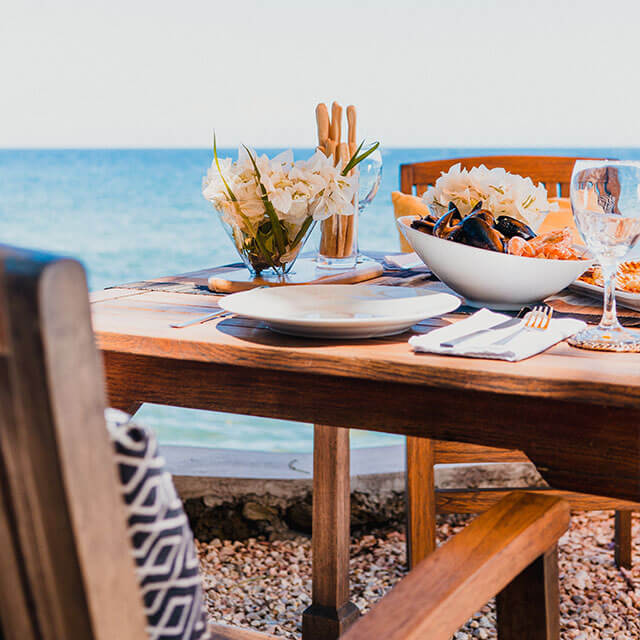 Stock your bar with your favorite premium liquor, and unwind after each indulgent day with your favorite drink and the gorgeous sunset before you. Whip up a delicious dinner—better yet, hire a personal chef on your getaway to whet your appetite with dishes made from locally sourced ingredients.
Whether your vacation home is just for yourself or for the entire family, choose a community where every lifestyle is catered to and exudes luxurious living, like Aruga Resort and Residences – Mactan. Nestled on a stretch of private white beach, this residential resort community offers one-bedroom to four-bedroom units to accommodate all types of vacation seekers and includes exclusive amenities for residents and guests. Aruga Resort and Residences – Mactan is Rockwell's first premiere residential-resort development located in Mactan Island, Cebu.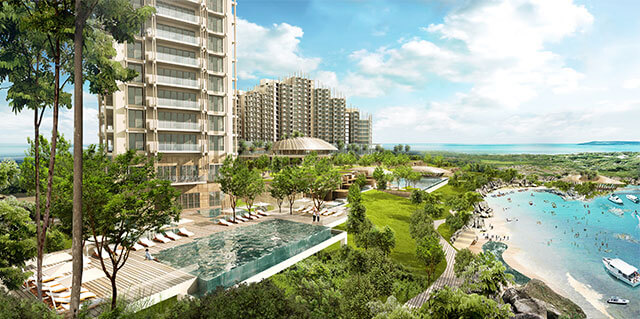 Source: https://www.townandcountry.ph/homes/property/5-things-vacation-homes-elegant-sophisticated-rockwell-adv-con
Rockwell Land has also partnered with with International Pharmaceuticals Inc. to introduce IPI Center by Rockwell, a new Rockwell signature coming to the Heart of Cebu. Learn more at: https://e-rockwell.com/ipi-center-by-rockwell/.
https://www.arugaresortandresidences.com/wp-content/uploads/2019/01/aruga-mactan-5-things-that-make-vacation-homes-more-elegant-and-sophisticated1.jpg
360
640
Ogilvy
https://www.arugaresortandresidences.com/wp-content/uploads/2022/11/Aruga-Mactan-logo-transparent.png
Ogilvy
2019-01-21 04:36:27
2023-08-07 08:29:33
5 Things That Make Vacation Homes More Elegant and Sophisticated